Descript Video Editor is my latest essential tools that I use to help create my own courses and my clients courses. Descript is unique in that it uses ai to create a transcript and allows you to edit your video like text. I have talked about it before in Where to Get Transcripts for your Videos.
In this article you will learn
How video editing can be as easy as editing a document
Optimize your workflow to make more interesting videos.
How to repurpose long zoom videos into shorter more versatile videos for social media.
I have been using Descript with clients who have multiple courses. Course bundles that have 40-50 videos, we are in different countries and Descript has been so much easier. Eliminating the transfer of files to each other, as the descript video editor keeps the files in the cloud. You only need to download the ones you are working on.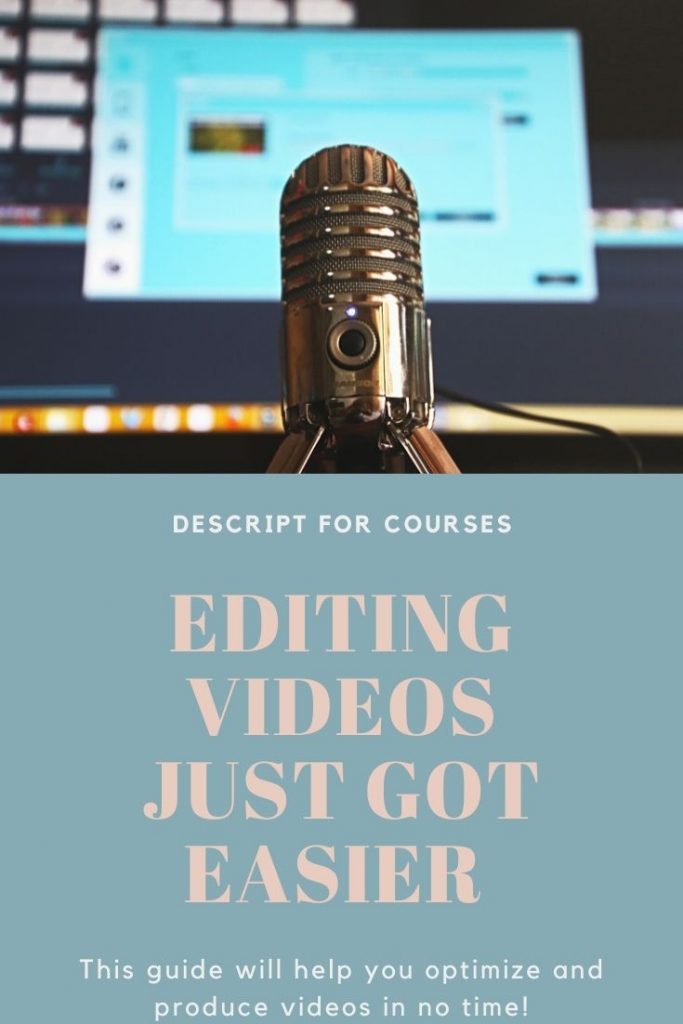 My video editing & production process using Descript Video Editor
My video production sequence has changed, with Descript playing a major part in scripting. Now I can turn a planned, but quick audio recording into a polished video script using the transcript feature.
Identify Your Course Modules and learning objectives for each module
Write bullet points for each video you intend to record
Record audio of yourself talking through the bullet points
Add the audio file into Descript to create a transcript
This transcript becomes the base for a polished script
Record the video using the script you created and edited in Descript
Bring the video into Descript, edit and output a video, .srt file, transcript and upload to your LMS of choice.
Descript Edits your videos via the transcript, like Word
While you are editing your video. You edit the transcript. When you cut words the video is edited along with the transcript .Using ai this makes it so quick to find your edits. Cutting out the urms and errs are done with the click of one button. Plus it recognizes other filler words that are identified and you can scroll through and edit, cut or replace as you wish.
Recording your screen for tutorials
Descript has a built in screen-recorder, audio recorder and on the paid plan you can record your voice for overdubbing so you can edit the audio by typing your voice(!), that really works.
Recording audio edits and additions
You don't have to worry about rerecording when inspiration strikes while editing, we've all had that right, oh I should have said "this genius thing". While editing, if you see somewhere you need to add some extra voice track, then you have the in-built voice recorder for on the fly audio edits. Plus, with the paid version you have the option to train Descript with you voice so you can type-in your voice as an overdub. Fall off your chair feature.
Export to Premiere Pro
I particularly love this feature of being able to export the timeline to adobe premiere. The export screen for Descript projects has most options you would need. The page option makes it easy to share projects as it gives you a URL to share, which holds your video or audio . An audiogram is a short export of your audio that makes for an easy social share. I have used them on my instagram stories and as posts too.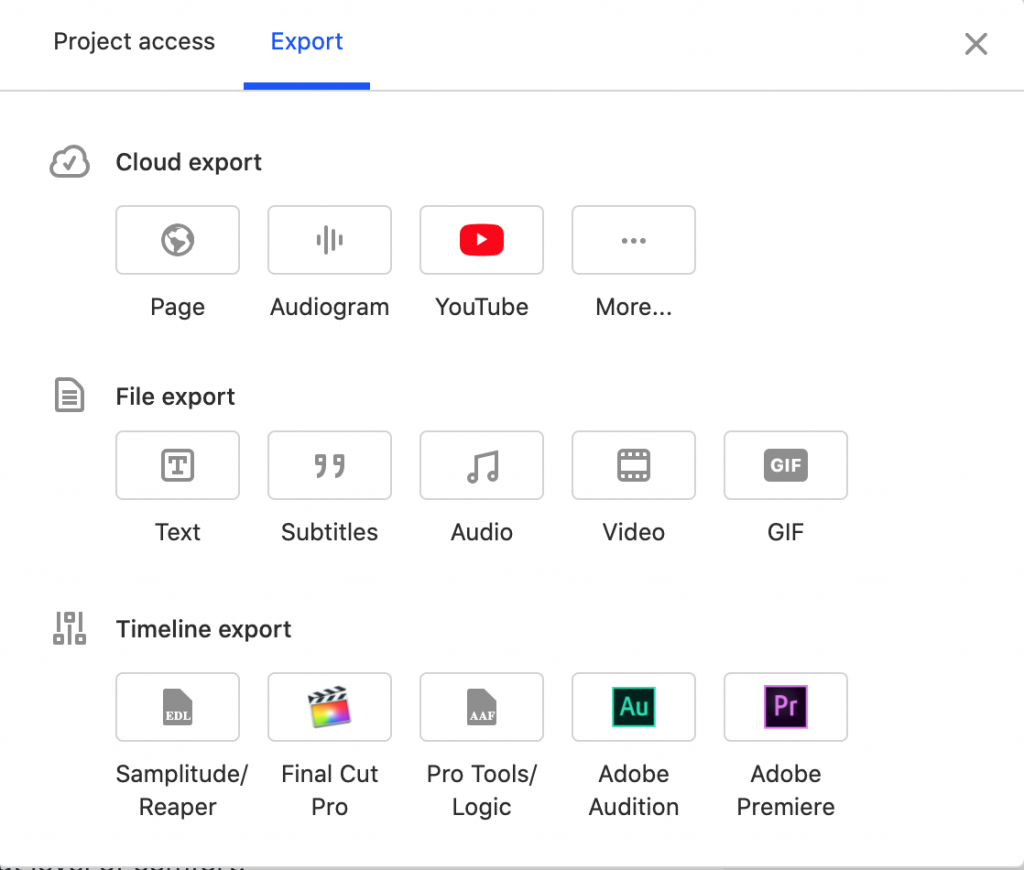 Fancy Captions
Fancy Captions allow you to create and customize open (burned-in) captions from your Script text directly in the video. This enables you to use pull-out quotes to focus attention on important parts of the script. It can make videos more engaging and understandable. These are not closed captions, but can be used in addition to them.
Export Closed Caption .srt file
Closed captions are a one click download, as you can see on the image above. Click the File Export>subtitles and the download is instantaneous. I upload these .srt files up to the Thinkific video library. This ensures that all students have the option to turn them on or off according to their needs.
Clip to new composition for content repurposing
If you have a large zoom call that you want to repurpose. Descript has you covered as you can bring the recording into Descript directly from zoom.
Transcribe the file and edit out the audience participation parts as needed.
Select the section of the transcript you want to use as a separate piece of content,
right click and choose, clip to new composition.
This makes a completely new video from the section that you can edit, export, audiogram, or resize for all the different social channels
. You can add in any type of image and video to enhance the zoom visuals.
All your creative juice can be poured into Descript. I have crafted whole courses from loooong zoom edits.
Cloud Storage & Collaboration Commenting
The cloud storage and file size of exports makes Descript a breeze when working on a huge project. I had a training recently with eight courses, over eighty videos and my client was, of course, remote. With this collaboration available inside Descript, there was no exporting, downloading, editing, uploading, review and repeat.
We could comment back and forth on the cloud files inside Descript. It would send email alerts that a comment had been left on the project. A large video editing job without the Descript collaboration features would have taken much longer. We saved ourselves all the back and forth email trail that is inefficient and prone for misunderstanding. I plan on using this for all of my editing work going forward. I particularly like that videos can be exported into Premiere Pro to finish off if I need it.
Check Descript out HERE
Latest Posts

GET INSTANT ACCESS TO FREE MINI -TRAINING "ROADMAP TO A PROFITABLE COURSE"

Download Roadmap to a Profitable Course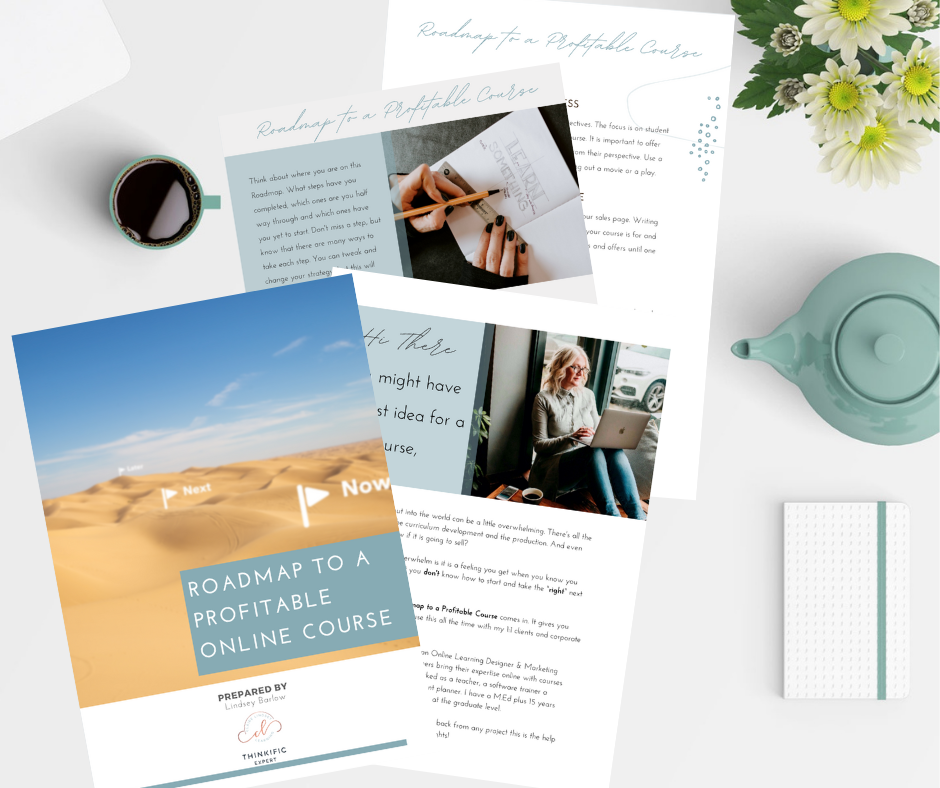 This Video Training covers the 7 steps to help you create your profitable course with ease!