Accessibility for all
The launch of your course is an exciting time as you are bringing something meaningful and purposeful into the world. Make sure through all your hard work that you are also providing content that is accessible. Video Transcripts help make your content accessible and are fast becoming expected and preferred by students. Video transcripts are the textual representation of spoken content in a video file.
Recently, I've worked with non profits who want to qualify for grants and funding and need to be 508 compliant. Video transcripts help them with this regulation. Communicating easily with all of your audience is key. When you design with accessibility in mind you make the web more inclusive for everyone, everywhere.
What is UDL?
Universal Design for Learning is an instructional design framework that acknowledges the fact that every student comes into a learning environment with a preset preference for how he or she learns. Disabilities, cultural differences, and past educational or professional experiences can shape preferences.
You may never know which part of your audience will prefer to read a video transcript rather than watch. In instructional design, "dual-channel theory" says that providing two forms of sensory input (visual and verbal) can increase information retention also. There will be those that have a need for the material in printed form, the hard of hearing for example. There will likely be a larger part of your audience that also find it useful. Those that don't necessarily NEED a transcript will thank you for being considerate enough to go that extra step.
As soon as a student has used a transcript they often form a preference, due to ease of review and ease of storing for later study. I have been surprised how many people have mentioned they are thrilled to find a transcript included in the courses I produce. Providing these video transcripts is getting easier with the explosion of video content delivery during 2020. Most tools make it quick and affordable to send off your video and get back a transcript ready to upload into your course area. I have listed a lot of these video transcript tools below.
The Tools for creating video transcripts
All of the tools have unique features and benefits, therefore it is a worth it to spend a few minutes on each site looking at what they offer. Check out their prices and use as much of their free offers as possible. This way you will have a good idea of the options that are going to work best for you and your students.
Otter.ai
Otter includes 600 minutes of transcription free per month! I've heard great feedback from my clients and this is my go to recommendation.
Rev
REV transcription starts at $1.25 per minute and is very easy to use.
Descript
This is the most unique of the tools. You can edit videos like a wordprocessor!! What!.
Descript give you 3 hours of transcription for free (one-time). It is a treat just looking at their website and see the features.
I wrote a full article on how I use Descript to Create Courses HERE.
Youtube
Humble old Youtube has some great transcription features built in. You could upload your videos to youtube and then use their transcription services for free.
Amara
Professionally captioned subtitles and translations are available as well as crowdsourced subtitles. Amara is providing free private subtitling workspaces for K12 schools during COVID-19. So definitely worth looking into if you are in that space.
Amara is offering FREE private subtitling workspaces through June for K-12 schools. Upload your videos from YouTube, Vimeo, and other video hosting sites in a private workspace and start using Amara's award-winning editor to create and edit subtitles.

https://blog.amara.org/2020/03/18/free-private-subtitling-workspaces-through-april-for-k-12-schools/
Temi
Temi offer a free transcript under 45 minutes one-time and from then on its 25c per minute. It is as simple as uploading your file. Temi also has an app which makes it easy if your files reside on your phone or ipad.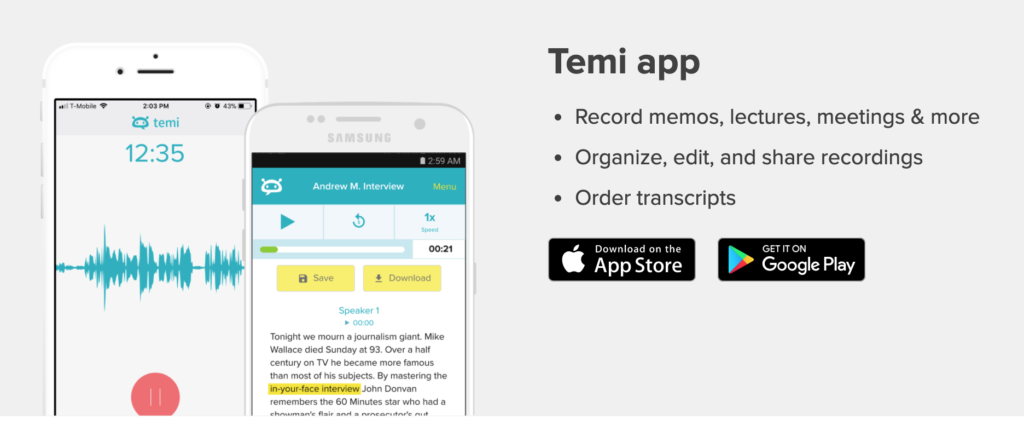 Searchie.io
Higher priced, but worth it if you have a lot of content & videos and you want to give your users the ability to search you videos to find the information they need. This works well when you have a weekly video for your users inside a membership for example. It makes your content easier to consume. Note it is not really a video transcript service, rather it makes your videos accessible via text search. Starts at $29/mo.
Trint
Also higher priced, is Trint. You can have a 7 day trial with 3 uploads allowed to try their service. On the eighth day you will be charged the steep $48/mo, so be on your toes if you go into the trial.
Try them all!
With these tools I've listed above there is a very low cost barrier. I am going back through my courses and add video transcripts where I can.
Using Transcripts in your course
A Checklist.
Have a separate section for your video
Include a pdf of transcript for download or screenreader immediately following the video
Also upload a pdf of slides only for download or screenreader, with optimized alt tags for photos, charts & multimedia.
It is also easy to strip audio from the video and add an audio only file
If you make the flow consistent through each module in your course. This enables students to feel comfortable with the tools they have available at each stage.
Let your students choose which version suits them best. Universal Design. This benefits all students.

GET INSTANT ACCESS TO FREE MINI -TRAINING "ROADMAP TO A PROFITABLE COURSE"

Download Roadmap to a Profitable Course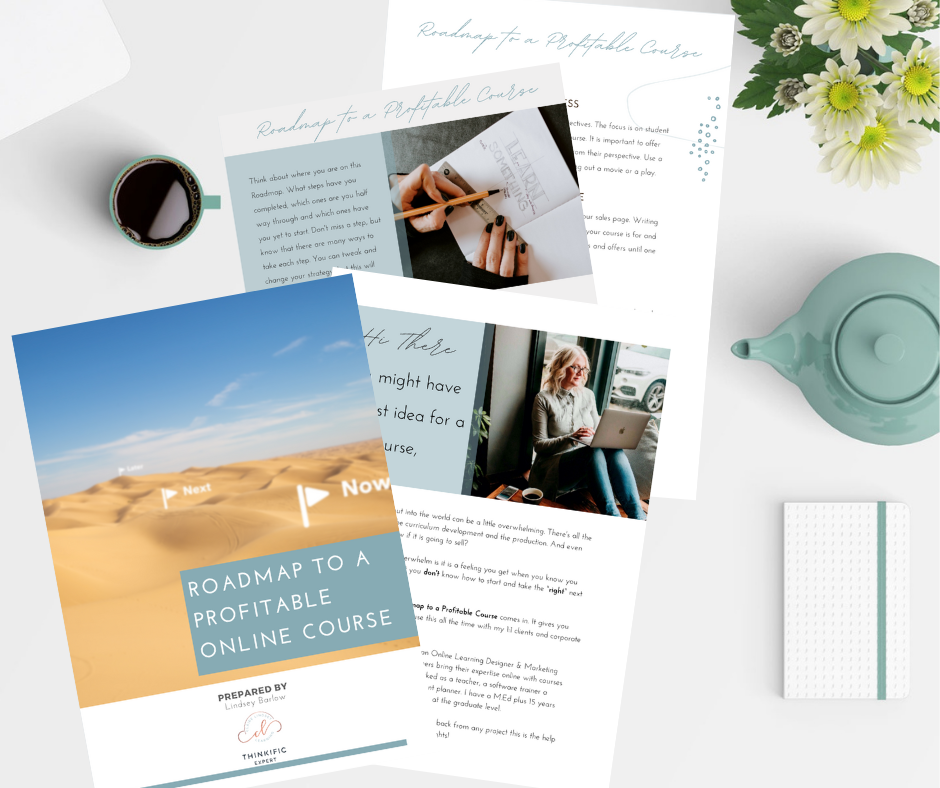 This Video Training covers the 7 steps to help you create your profitable course with ease!