Make Offers out of your Courses
This is a recent Thinkific sales page example, I have been working on for a client. Linda has numerous wonderful Art & Painting courses. To feature her latest course offer, I used an additional products site block. I chose one product and made it a feature. This makes an attractive quick way to call attention and provide a quick link to the course details. I used this technique to call attention to her free course too. Watch the video to find out more.
How to use the Additional Products Section
The additional products section is one of the choices, when you add a section.
Edit the Header and subtitle text as you like.

Remove the checkmark for showing the All Products button.

Add an additional product and choose the product you want to feature.
Check the setting to show a featured product. (This makes your choice full width instead of the course card)
Make sure you have an attractive course card image and detailed description to entice enrollments. These are created inside the course in the settings section. Optimize these as best you can.
Thinkific SiteBuilder Visual step by step
Add an additional products section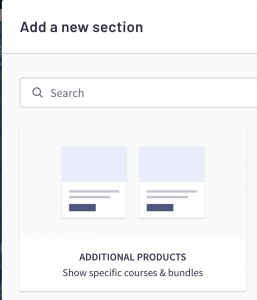 Check to show feature product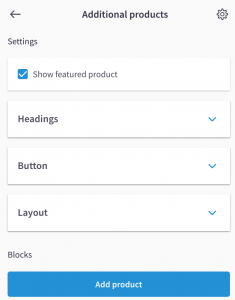 Choose the course you want to feature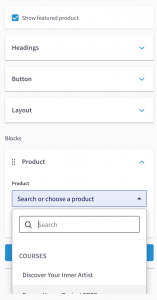 Hide the show link to all courses button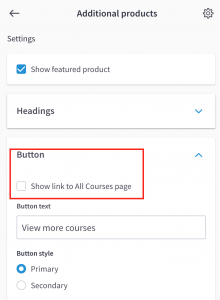 Thinkific Is So Versatile
Be creative with making offers with your courses. The options are endless. You can create bundles. This Fall Bundle includes two courses, The Artists Way Immersion Experience & Discover Your Inner Artist PLUS it includes a LIVE component an online workshop that will be recorded and included for participants who join later.
You can find details at LearningwithLinda.thinkific.com 
To find out more about Thinkific Sales Page Examples you can watch my free training here.
For the video screencasting I use Descript which is wonderful for video editing, transcripts, closed captions, and audio. 
Feel free to book a call to improve your course and course sales page here.