If you want to create an online course, it can be a daunting task. You have to:
figure out what your course is about
create an outline
record videos
create handouts/workbooks etc.
set-up an online learning platform and upload all of your content.
market the course
figure out which technology tools to use
Is your head spinning yet? If this is your first online course, it's likely that you'll never even make it out of the overwhelm and on to actually getting the course created and into the hands of a (hopefully) eagerly awaiting audience. If you are like many people, you might just take this kernel of an idea for a course and jump right into hiring a course creator.
This is Where I Come In
Hiring a course creator like me is time-saving, however, it might not be the best idea. You may end up wasting a bunch of time and money having the course creator coach you through the whole process. You'll end up paying more than you would have if you would have done some of the pre-work yourself and brought a well-developed outline and content to your first meeting. Where does this leave you?
If Only There Was a Course to Help Create an Online Course
Thankfully, there is an inexpensive course out there that has a proven step-by-step process that you can follow to create an online course and get ready to hire a course creator. It's called Course Chemist and it's by the team that created Funnel Gorgeous and many other amazing marketing programs to help entrepreneurs create a marketing strategy that actually works without them having to be a Master Marketer.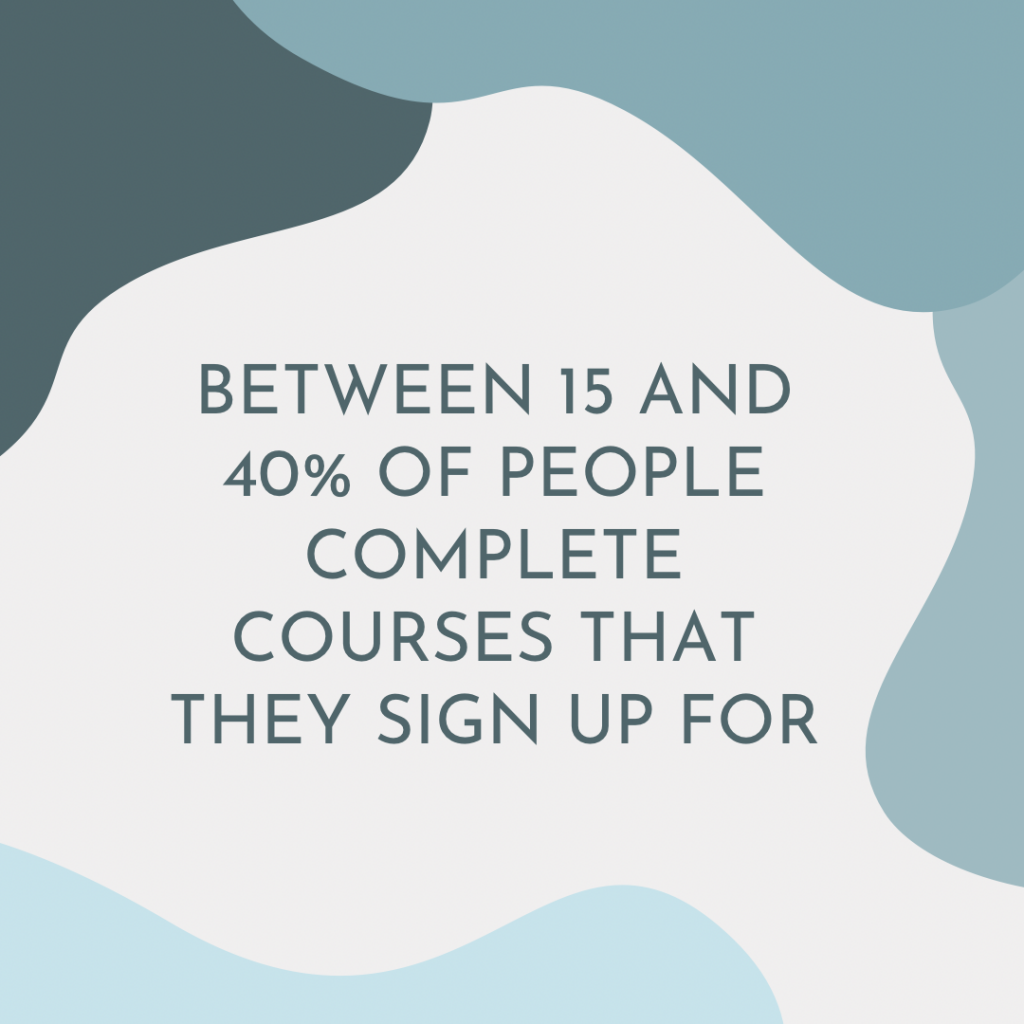 What is Course Chemist?
Course Chemist is an online course that will help you to brainstorm, build and complete a course that is much more likely to sell and be completed by your students. (Did you know that many people don't complete courses when they sign-up? In fact, only between 15 and 40% complete an online course that they signed up for.) Also, some courses never even sell at all.) That's a scary proposition when you consider the number of hours that you are likely to spend creating a course.
Plus, you want to create a course that your students will love. Why is that? They are more likely to recommend it to their friends if they love your course and get a lot out of it. Word of mouth is the best marketing strategy there is. Who would you believe? Your best friend who tells you about the amazing course that she took online or a Facebook Ad?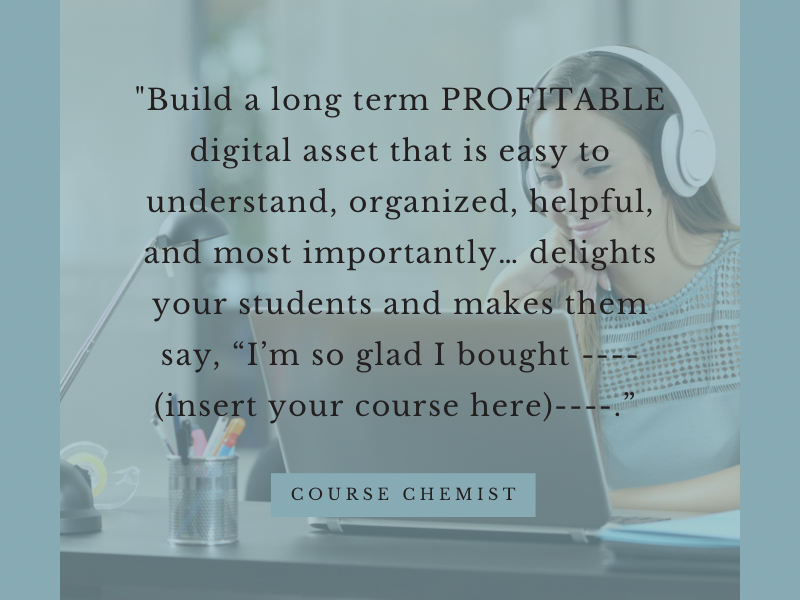 Course Chemist Will Help You To:
Figure out what is just the right amount of content to deliver without overwhelming students.
Teach you how to break down difficult ideas into manageable bites with engaging presentations that keep people coming back for more.
teach in a way that inspires people to take action rather than wondering what you just said.
Work through the curriculum as you build.
Come up with lots of ideas for worksheets, resources, visual aids, and other goodies that give students an incredible experience.
Price your course right from the start, and craft an ideal payment plan for your customers.
Here's the Best Part About Course Chemist
It's inexpensive. The course only costs $200. This is nothing compared to what you will spend if you hire a course creator to coach you through the initial set-up of a course. This means that if you finish the course and you still want to hire a course creator, you will have much of the work done. They can help you to get it the rest of the way there instead of starting from scratch.
Steps to Take Before Your Launch a Course Created with Course Chemist
If you have created an online course using the Course Chemist program, there are a few things that you will want to do before you launch it.
Make sure to follow guidelines for accessibility to ensure that you aren't excluding any learners with special needs who could benefit from your course. I can do an audit of your course for you to advise you of ways to make your course more accessible.
Check to see if your content meets the guidelines for Universal Design for Learning so it provides better learning opportunities for all of your students.
Create activities that will engage learners and allow them to demonstrate their knowledge. Reach out to me if you would like help creating these activities.
Build interest in your course with your audience so they know about your course, are interested in it and want to buy it when you launch it.
Create an Online Course with Confidence
If you want to save a ton of time when you create an online course, I highly recommend course chemist. It will allow you to do much of the groundwork with creating an online course before you actually spend thousands of dollars hiring a course creator. Once you've completed the course, you will have an online course that is ready to hand off to a course creator. Much of the content will be there, they will just help you to get it the rest of the way there. You'll spend so much less money and have a much better-designed product that way. If you have an idea for a course, Course Chemist is the best way to get it ready to share with a Course Creator like me. Check it out here.
Get ready for your Black Friday Sale for your course here

GET INSTANT ACCESS TO FREE MINI -TRAINING "ROADMAP TO A PROFITABLE COURSE"

Download Roadmap to a Profitable Course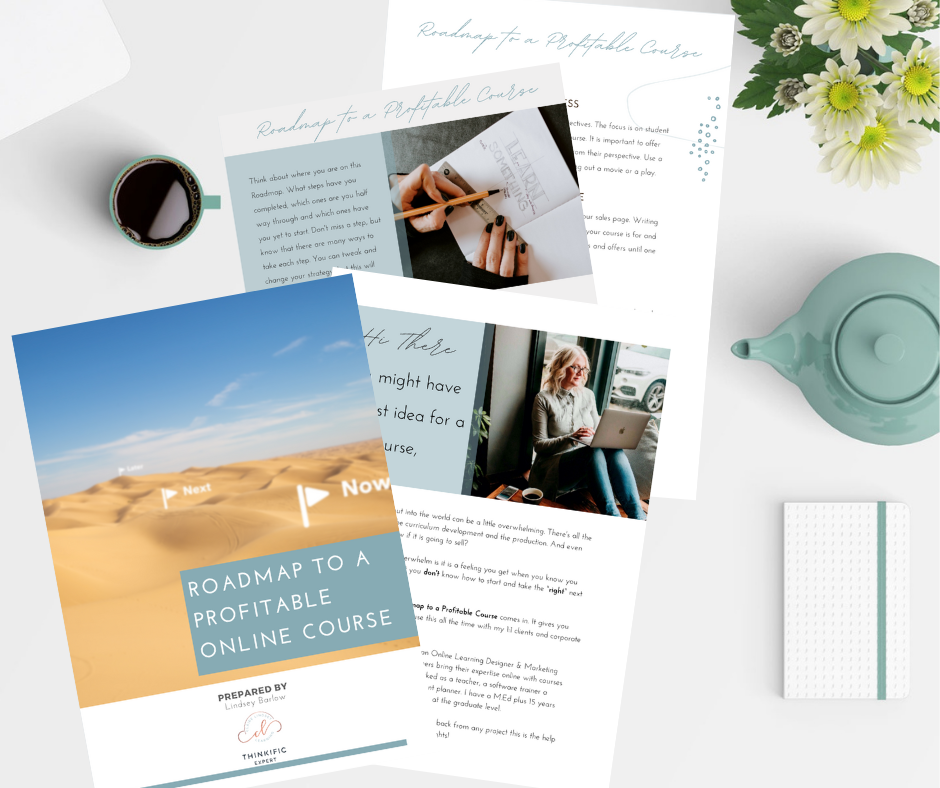 This Video Training covers the 7 steps to help you create your profitable course with ease!