Many people have a hard time creating a branded slidedeck for their online courses. Slides are typically used as an integral part of your course, and it's important that they match your brand and don't distract from the educational content. In this blog post, you'll learn how to create a branded ecourse slidedeck in two minutes with Canva!
Software Used: Canva PRO
Branded Slidedeck Step by Step Instructions
This is how I use Canva to create branded e-course slides in two or three clicks. I go to presentations and then I click on presentation.
In the search bar I type E-Course.
And it comes up with a whole series of. templates for e-courses. Let's just save you a little bit of time going through all these, but the one that I like is called Minimal and it has online course on the first slide. So I just click on that. And it opens up and shows me all of the slides that I can use. So I just click apply all 33 pages to my document and it puts all of those in my document on canva.
So this, for example has a title slide. It has multiple title slides actually. And then it has content slides and all you have to do is change out the pictures and your content. But maybe you want this branded to look like your brand colors.
So I go to styles and this is where I keep all the styles for myself and for all of my clients. So I just click. My colors. And you'll see it changed this slide to my brand colors. And I can shuffle that if I wanted to. Have different choices about my brand colors and where they went. But I kind of liked that one, so I will choose that. And then I will apply this to all of the pages at once, right across the 33 And you'll that each of these slides changes to my And you could check each of the slides by looking at grid And then you can go through and duplicate slides and customize the content. Until you have everything ready, but you have a branded ecourse slide deck, ready to go?
You don't need to be a graphic designer or have Photoshop skills to create an engaging ecourse slidedeck. In just two minutes and with the help of Canva, you can design a branded slide deck that will stand out from other courses.
Tips for Creating Effective Branded Slidedecks
1. The best slides are simple and easy to read
2. Use images throughout your slide deck to liven up the presentation
3. Use a font that is readable on a small screen as some of your course students may be watching on a phone or an ipad.
4. Keep it short
6. No bullet points! It's better for people watching the presentation to be able to see what you're talking about rather than just reading it off of an outline on their laptops or phones
Branding Packages for Online Courses
I think branding is so important when creating a course I've created custom course branding packages for my clients that include creating their logo, color schemes, branded slidedecks, checklists, journal pages, workbooks and more! If you're interested in working together on your next project reach out here so we can chat about what might work best for you.

GET INSTANT ACCESS TO FREE MINI -TRAINING "ROADMAP TO A PROFITABLE COURSE"

Download Roadmap to a Profitable Course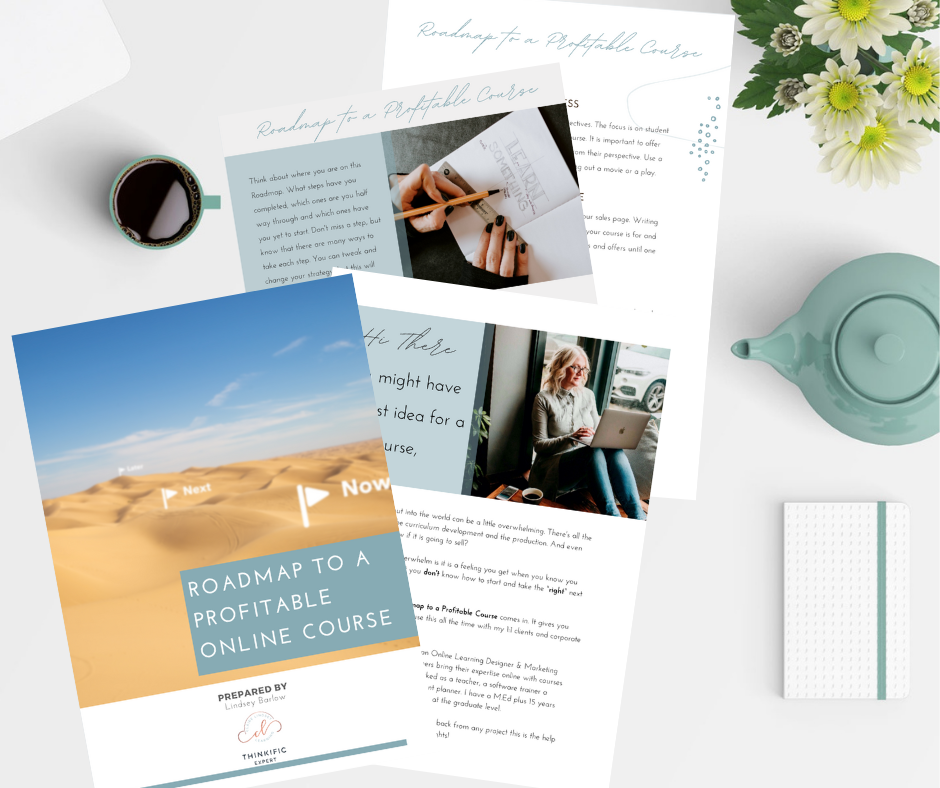 This Video Training covers the 7 steps to help you create your profitable course with ease!