We're all familiar with the infamous Instagram bio link. The one link that you get to use to market your business on Instagram. Some Instagram fans resort to changing the link every time they post about their latest blog post or run a promotion. That gets tedius. There are also many online services that have been built that allow users to create link pages. For example, Linkin.bio and Linktree. However, if you want to create a link page that has custom brand colors or button designs, you have to pay a monthly fee. If you really want to create a unified user experience, you might want to consider something else.
Why Should You Optimize Your Instagram Bio Link Page
If you have an Instagram account, you are familiar with the limitations of your bio link. However, you will have to change it out every time you post about your new blog post, promotion, etc. This means that you can only promote one item for a limited amount of time, not only that but if a visitor to your feed reads a post and it says that there's a link in your bio for the freebie that you mentioned, but they go there and instead it's a link to your latest blog post, they are going to be frustrated.
Services That Allow You to Create an Instagram Bio Link Page
There are many services that allow you to create an Instagram bio link page. Most of them offer a few options for customizing the background to a few colors and a certain number of buttons before you have to pay to upgrade. If you have a Linktree or similar, you are missing out on a branded experience for your profile visitors.
While these are great services, they don't give you the kind of flexibility that you could have if you created your own link page hosted on your very own website. Not only that, but if you want to have the ability to brand the link page to match your brand colors, logo etc., you are going to have to pay a fee. These fees add up. If you want to cut back on expenses, one option is to create your own Instagram bio link page.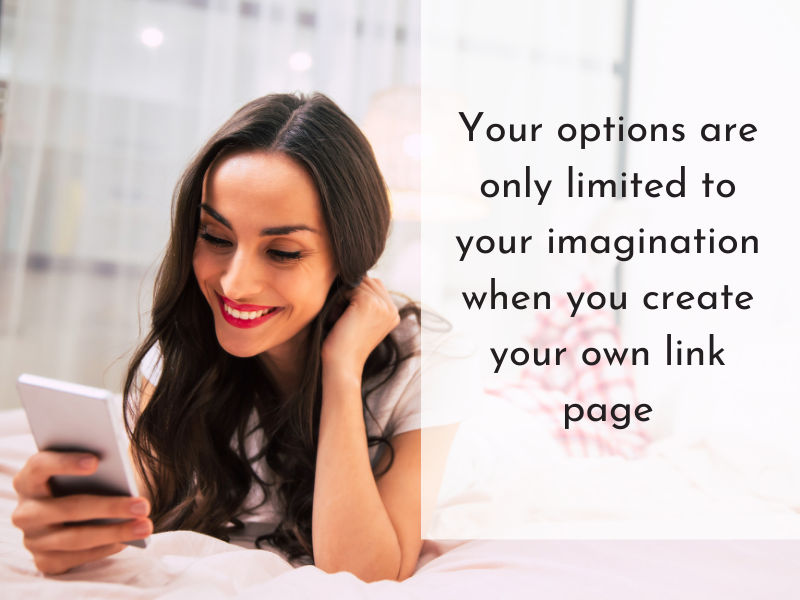 Benefits of Creating Your Own Instagram Bio Link Page
What are the benefits of creating your own Instagram bio link page? First of all, if you use a service, your audience is directed away from your site. So there are more clicks to get them where you ultimately want them, which is on your site.
It's On Brand
If you create a link page on your site, you can use the theme that is probably already installed on your website. This means that when users click your link in bio, they will see a continuation of brand from your Instagram bio page (assuming that you've branded it to match your brand colors) to your link page and on to your website. It will all go together.
If Your Site is Up, Your Link Works
If you did choose to use one of the providers mentioned above and the site goes down, then your link doesn't work. Also, if they went out of business, you would have to recreate your link page with a new company.
You Can See How It Performs On Your Site Statistics
If you use one of the sites like Linktree, they offer statistics tracking. However, you will have to go to their site to track the statistics. If you host the page on your site, the statistics are tracked on your site statistics.
You Have Design Flexibility
You aren't limited to just buttons if you create your own page. Not only that, but you can pretty much design it however you want. You don't have to play by their rules. I'll give a few examples of design options next.
No Extra Fees
We all know it's not cheap to create a website and run a business. The fees for software and online applications add up quickly. You have the fee for your accounting software, the fee for your online learning platform, the fee for Canva., etc. Why choose to host a page somewhere else and pay an additional fee to have some of the custom branding that you could have on your own site?
Options You Have When Creating Your Own Link Page
Your options are only limited to your imagination when you create your own link page. Here are a few ideas.
Buttons linking to pages on your website.
Custom-designed button graphics.
A video introducing yourself and talking about what you do and how you can help prospective clients.
Client testimonial graphics.
A grid of images of your work or images from the posts that link to the item referenced in the post.
Links to your latest blog post
Links to your latest podcast episode
You aren't just limited to a row of buttons either. You can design the page however you want. Just make sure to design it for mobile users. Want to get some ideas? Check out my Instagram bio link live and in the video scroll video below.
Components of a Link Page
Use the same theme as your website.
Use your brand logo, fonts, and colors for continuity.
Identify it as a special page for your Instagram followers.
Working links that are easily identified (you could have a matching photo/graphic from the post on your Instagram feed see photo below.) This would make it easy for visitors to find the link that they are looking for. They'll just need to click on the matching photo.
Easy to navigate and well laid out.
Optimized for mobile users. Instagram is largely a mobile platform.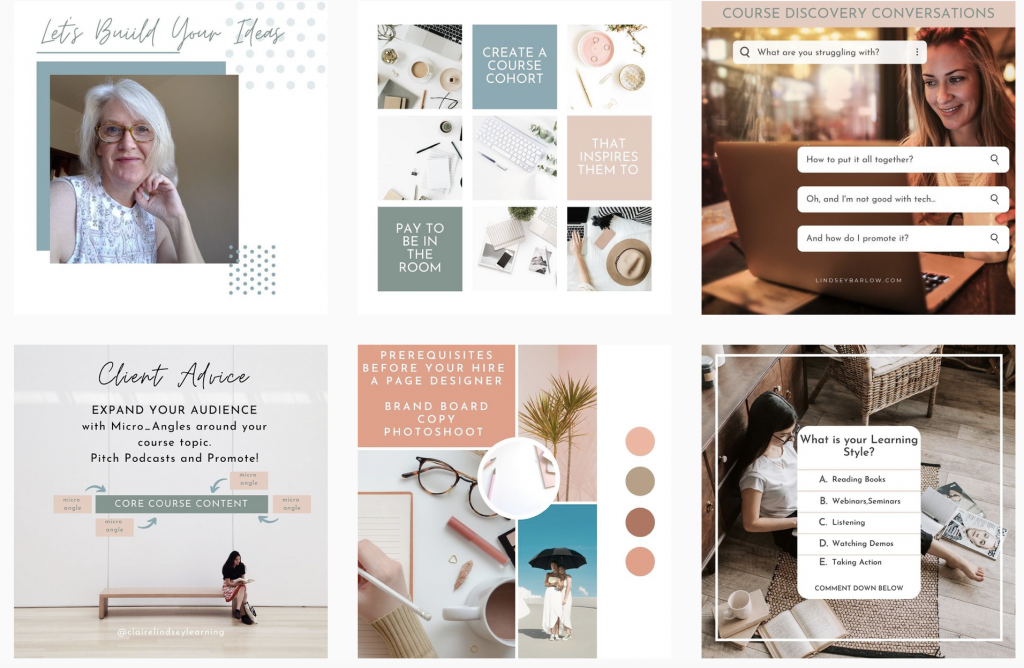 Ways to Easily Create Your Instagram Bio Link Page
You can easily create an Instagram Bio Link Page if you use themes like Elementor or Divi that allow you to design pages in mobile view. (Otherwise, you might need to do a bit of editing once you publish to make your design look right on a mobile phone.) This is very important since 99% of people will be looking at your Instagram bio link page on their phone as opposed to their desktop computer. Canva has templates for Instagram bio link pages as well. You would need to keep in mind that you would need to leave space for text links or buttons if you go with this option.
In Conclusion
You have a lot of options available to you to optimize the link in your Instagram bio. If you prefer, you can use one of the many providers that will host the links for you. Otherwise, you can create your own link page that is hosted (and owned on your own website.) It will be branded like your website and will contribute to your internal links and site SEO. Plus, you will have the most flexibility for design options and the types of content that can be hosted there. Not only that, but you won't have to pay an additional monthly fee to have that privilege. What do you think? Is this something that you want to try? Leave a comment below.
Visit my Instagram bio to see an example of a self-hosted Instagram bio link.
Here is a screenshot of a recent version I designed. I use FGFunnels, which makes it so easy to go in and change it up, it also keeps statistics so I can see the number of profile visits and how many are repeat profile visits. I can pixel it. Very flexible solution. Read about FGFunnels here and let me know if you want a tour.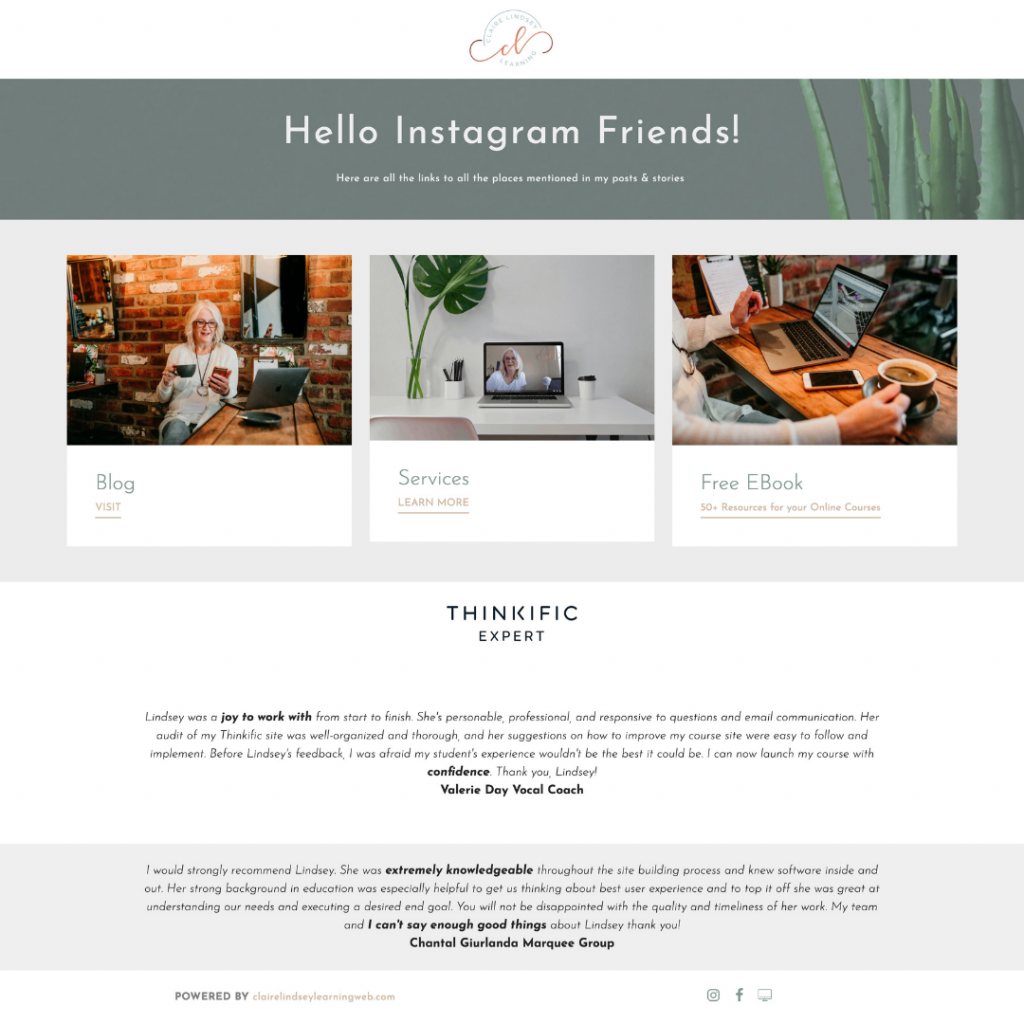 GET INSTANT ACCESS TO FREE MINI -TRAINING "ROADMAP TO A PROFITABLE COURSE"

Download Roadmap to a Profitable Course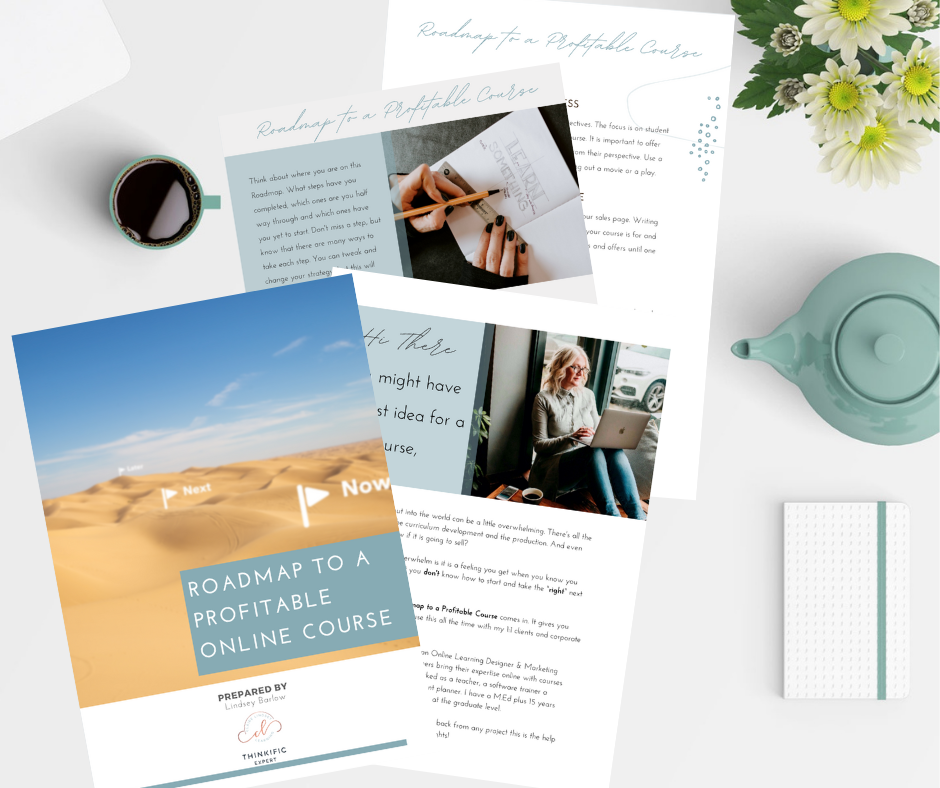 This Video Training covers the 7 steps to help you create your profitable course with ease!