Writing the perfect webinar can be very labor-intensive. You have to come up with the script. Put in enough engaging, useful information to build credibility with your audience, without giving away so much that they don't feel like they need your course. You need to make sure to get their attention, keep them engaged, and ensure that you lay everything out that they need to know. Plus, you have to overcome objections, justify the cost of your product, and ask for the sale in a way that meshes with your brand personality. This doesn't even include creating beautiful slides that are on-brand. It's enough to make your head spin (and stop you from even starting.)
Why do you need a "perfect webinar"?
Webinars are important for attracting your ideal customer. It could be a free preview of your course or some introductory educational piece of content. They present the information and teach your audience enough to build credibility and allow them to get to know you. Ideally, you should give lots of value, but leave them wanting more. If your course is over $1000, you are going to need a longer form webinar. If it is less than $1000, you could use a shorter video sales letter. It is important to organize your webinar so that it is effective at educating your audience and selling your course. A well written and presented webinar builds credibility and demonstrates your knowledge on the subject.
How to format a presentation that sells
There is a recommended way to organize the content of your webinar. Before I get started about that, I want to remind you that it's important to write your webinar content in a way that is authentically you and your brand. You don't want it to sound cheesy or as if it is put on. Russel Brunson of Clickfunnels created a script called The Perfect Webinar. It has 10 parts.
Hook
Setting Expectations
Origin Story
Mind-blowing Content
The Offer
The Stack
The Key Question
The Sale
The Tipping Point
The Close
You want to write an introduction that catches your audience's attention and makes them interested in continuing to watch your presentation. After that, you want to set expectations so that your audience knows what they can expect from their time with you. Next, tell your story in a brief and engaging way. Then, get into your amazing content.
Once you get to the end of your content, you will want to create a seamless transition into your offer and ask a question that empowers your audience to buy without feeling pressured. You need to build an offer that makes you feel like your price is valid. Additionally, you will want to include a section that helps viewers who are on the fence to make a decision. This is important and many people don't include it. They are missing sales that they might get if they enable their viewers to make an informed decision. Finally, create a close that makes you and your customer feel good about their purchase and ability to get results with your product.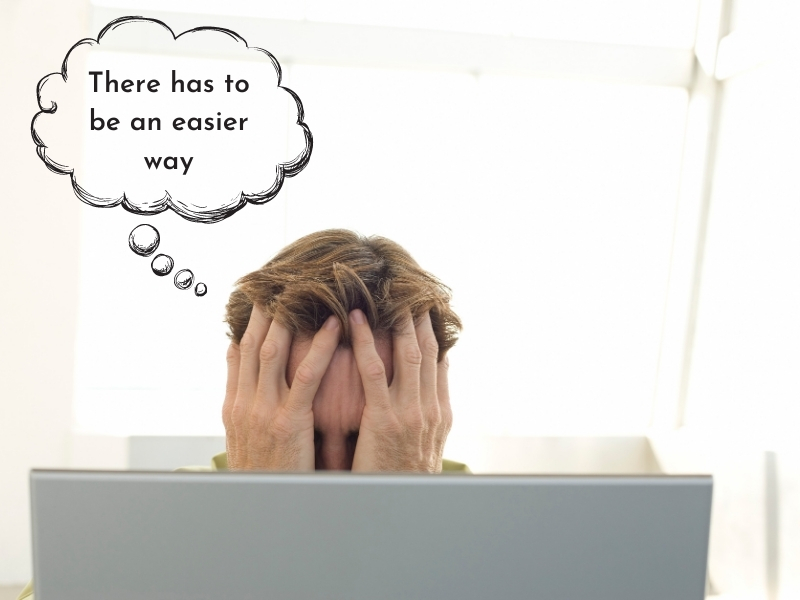 A well organized script is only half of the equation
Not only do you need a webinar script, but you need slides that are beautifully branded and well laid out too. It needs to look polished and represent your brand well. Most of us aren't graphic designers, nor do we have tons of time to spend creating really amazing looking slides in Canva or PowerPoint.
I've discovered a way to hack this process
I've discovered a hack that saves me time when writing the script and creating the presentation. Funnel Gorgeous has created beautiful templates with prompts that help you to create a script and slides for your webinar at the same time. It follows the ten-step process found in the perfect webinar script, but uses prompts that allow you to be yourself. All while creating a professional and engaging presentation that is effective and proven at closing the sale. They have tons of templates with various design styles and color combinations to make it easy to find something that matches your brand.
This is an inside peek at a Funnel Gorgeous template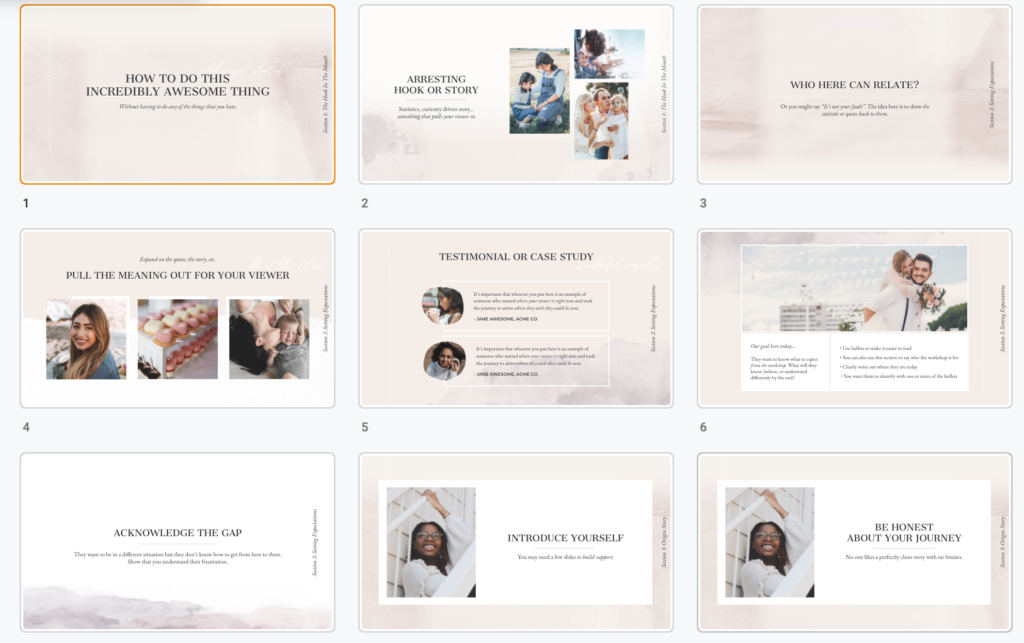 Do I have to choose between Google Slides or Powerpoint?
Funnel Gorgeous Templates give you both PowerPoint or Google Slide formats, so you don't have to choose between one or the other. Also, you can give your brand a cohesive look with matching sales page, webpage, and Ad and Promo templates .
Other Genius Uses for Webinar Templates from Funnel Gorgeous
These are the additional ways I use these templates
To describe my services in my Discovery Calls with potential clients
As training slides inside your course
As Slides for other presentations to keep the look of the brand consistent
Resize the slides in Canva and use them to create Instagram or Facebook content
I am sure you can think of other ways you could utilize them in your business.
How to navigate the Funnel Gorgeous Site to the Perfect Webinar Deck
The latest slide deck is available for Funnel Fresh this week for $49 for one week only.
Click to the funnel gorgeous template site
Scroll down to almost the end of the page and choose the shop webinar slide templates option
Select the style of Template that best suits your brand
Go to checkout and choose the Webinar Slide Deck Option for that style
While you are at it, be sure to check out the other matching templates that you can purchase at the same time. (Such as Adwords templates, WordPress sales pages and more.
You will be well on your way to cheating your way to a perfect webinar script.
Disclosure: This post contains affiliate links, see my affiliate disclosure for what that means.
You can also get slides for your webinar from Canva, find out how in this post. How to Create A Branded Slidedeck in Canva
GET INSTANT ACCESS TO FREE MINI -TRAINING "ROADMAP TO A PROFITABLE COURSE"